City Recycling Services for San Diego
The city of San Diego provides trash collection services Monday thru Friday, your collection day depends on your location. You can find your scheduled collection day here:
Your trash and recycling bins need to be placed out at your curb or alleyway by 6 AM the day of scheduled pickup. Trash should be bagged and contained to prevent litter, but recyclables can be left loose.
San Diego City Trash Holidays
Trash, recycling, and yard waste is not collected on these city holidays:
New Years Day
Memorial Day
Independence Day
Labor Day
Thanksgiving Day
Christmas Day
On these specific days, bins will be collected one day later, beginning the day after the holiday through the rest of the week.
For any problems regarding missed pickups, setting up new trash service, or requesting a replacement bin you can find the necessary information at:
Bulky Item Pickup
The city of San Diego offers Community Cleanup Recycling Events to accept both recyclable and non-recyclable items that do not fit in a curbside bin. More than 40 events are held each year and flyers are sent out to residences prior to the events, which are held all throughout San Diego.
Accepted Items:
Appliances
Carpeting
Small Electronics
Junk Furniture
Mattresses
Lawnmowers
Metal
Wood
All types of Lightbulbs/Tubes
Household Hazardous Waste
San Diego residents with household hazardous wastes can take those items to the city's HHW Transfer Facility at no charge.
Location: Miramar Landfill at 5161 Convoy Street, north of State Route 52
Hours: Saturdays 9 am – 3 pm (except holidays)
*An Appointment is required and proof of city residency. Those living in unincorporated areas of San Diego can call 877-713-2784
What is Household Hazardous Waste?
This includes regular household products for your home, yard, or vehicle with titles like "Danger" "Warning" "Caution" "Poison" "Flammable" and "Corrosive".
More Information on San Diego Recycling
Blue Waste Bins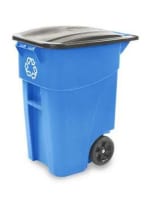 Learn which items can go in the blue bin.
Green Waste Bins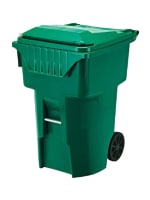 Learn which items can go in the green yard waste bin.
Drop Off
Locations where you can drop off items for recycling.
Books
Book donation in San Diego. Dont toss books in the trash, instead, donate them.
Shredded Paper