Aluminum Can Crushers Make Recycling Easy
Aluminum cans can be recycled endlessly, just like glass bottles, making them a super important item to recycle regularly. They can also bring in some extra cash if you take them into a recycling facility that pays by weight. In the United States, we recycle about 120,000 cans every minute! Even at that rate, only about 67% of overall aluminum cans are being recycled, meaning, we could be doing a whole lot better. This is where an aluminum can crusher can help with recycling aluminum.
If you are doing your part already, you may have several large trash bags full of soda and/or beer cans waiting to be taken into your local recycling facility. Aluminum cans are lightweight and easy to recycle. However, they can take up quite a bit of room. That is why a wall mounted aluminum can crusher is one of the best recycling tools you can purchase. Crushed aluminum soda cans and beer cans take up less space and also use less plastic trash bags. One super convenient solution to this is a wall-mounted can crusher. There are dozens of different types available to purchase either from your local home improvement store or online through Amazon or other online retailers. Here we will take a quick look at several types of can crushers and give you some detailed reviews of top choices in each category.
Reviews of Best Soda and Beer Can Crushers
When is comes to soda can crushers there are literally dozens of choices available online and in stores like Lowe's, Home Depot, and Ace Hardware. Ranging from low priced molded plastic choices, to steel constructed heavy duty pneumatic can crushers. Some crushers are cable of crushing soda pop cans as well as plastic bottles. There are even foot operated can crushers if that is your preference, or maybe a need you have due to arthritis or any other hand-arm injury or impairment. There are numerous choices in each category, but some are definitely superior to others. Below you will find a quick review of the best choices for a few different categories.
Automatic Dispense Can Crusher
Dial Industries Easy Pull Aluminum Can Crusher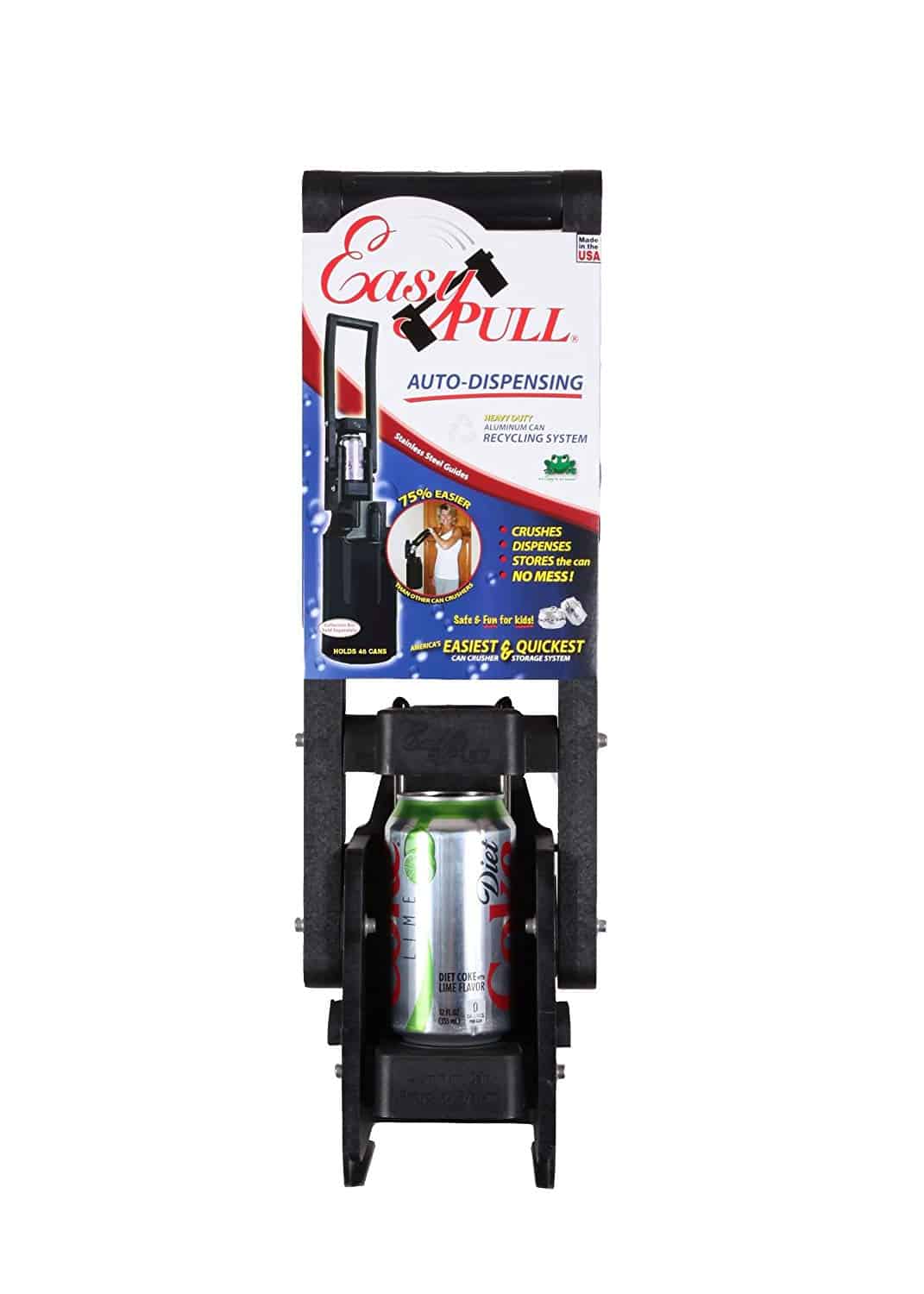 This Easy Pull Can Crusher is a great choice, it's easy to load and automatically dispenses the crushed can, so you can keep loading and crushing without pausing to remove crushed cans. Just place a trash bin below to catch the crushed cans and get through a large quantity of aluminum cans quickly. It also eliminates having to touch some sticky, messy cans if there happen to be a little left at the bottom of the soda can. Once crushed, this can get quite messy, with this model it drops directly into your recycling bin or bag. This model also seems to hold up very well even though it is made of plastic and is a moderately priced choice. Reviewers were surprised at how well it worked and how well it has held up over time.
Heavy Duty Can Crushers
McKay Metal Can Crusher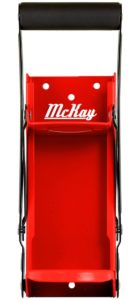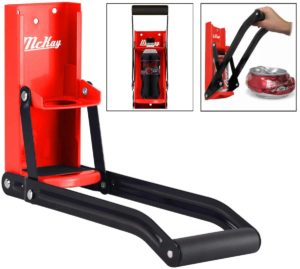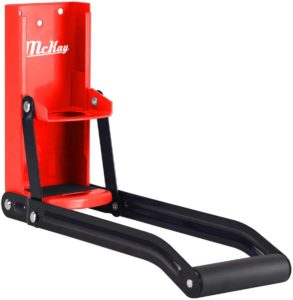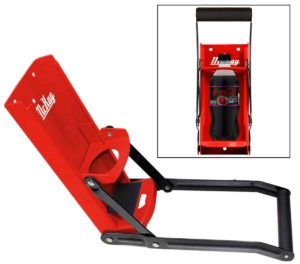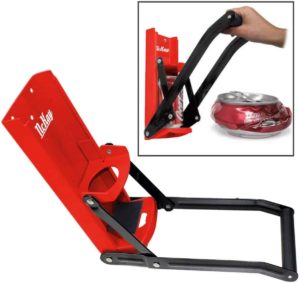 The McKay Can Crusher all-steel constructed manual can crusher is a great option that will stand up to continued and frequent use. If you're worried about a plastic framed can crusher cracking or snapping over time or when excessive force is used, then this may be a better option. The McKay Metal Can Crusher comes in different color options and is easily mounted to the wall of your garage or shed. It is very sturdy and well made it also has a soft foam grip handle and comes in both 12 oz, and 16 oz sized models. A nice feature is that it can also crush plastic soda bottles and water bottles as well.
Ram-Pro Aluminum Can Crusher & Bottle Opener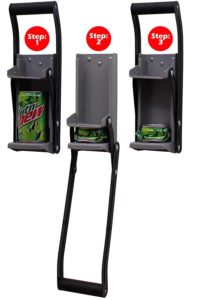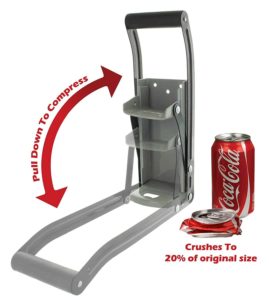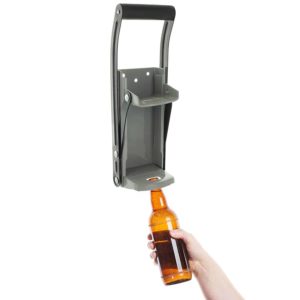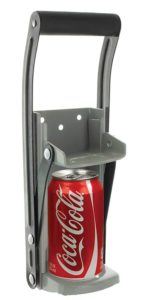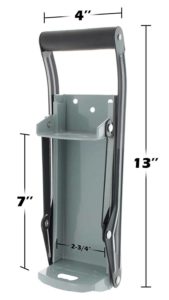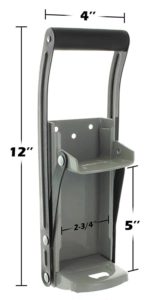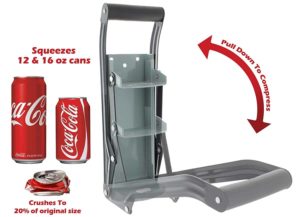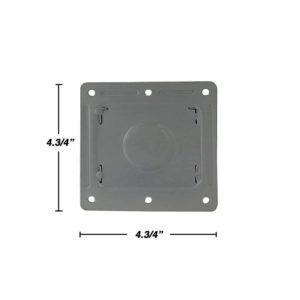 Another great choice for a well built, sturdy aluminum can crusher would be The Ram-Pro Can Crusher. 16oz cans are no problem for this heavy duty aluminum metal wall mounted crusher, but this model comes in either 12 oz or 16 oz models. It is constructed with 16 gauge durable all steel body and joints that crush cans down to 20% of their original size. It can hold up to extended use and can be mounted on a wall or table. It even has a bottle opener feature as well. The Ram Pro can crusher has excellent reviews and has held up over extended use without cracking or breaking.
Multi Load Can Crushers For Recycling
Ram-Pro Multi Load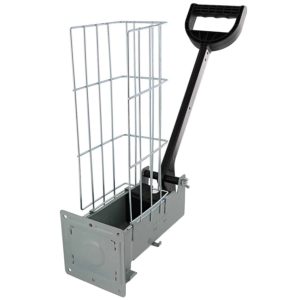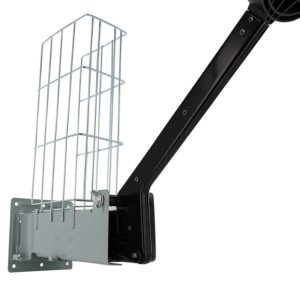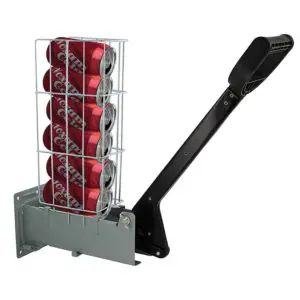 The Ram-Pro Multi Load Can Crusher is another excellent choice for crushing up to six cans at a time. It is made by the same company as the above mentioned Ram Pro can crusher, but this one can be loaded with multiple cans at once. This model is also well made with heavy steel construction and a soft, easy-grip handle. This model crushes both small and large aluminum cans. It features easy one-handed operation and is easy to use and install.
Basic Industries Multi Crush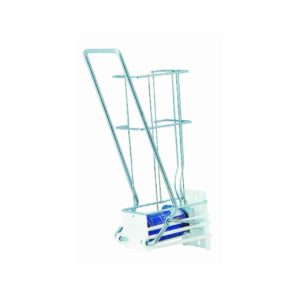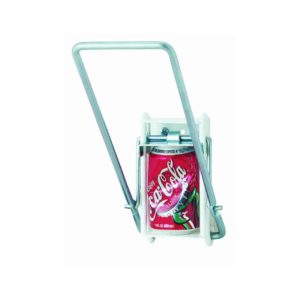 A Multi Load Can Crusher might be a good choice if you've got tons of cans and want to save time. These multi-load can crushers enable you to load up to 6 empty cans at a time, then crush one after another, making recycling soda and seltzer beer cans simple. This is a heavy duty 6 can capacity crusher from Basic Industries International.
While you will surely be able to find less expensive multi-can crushers, this one seems to stand up to heavy duty use. Its structure is metal, not plastic like many others available. It also automatically ejects the crushed cans into a bin below.
16 oz and 12 oz. Manual Can Crusher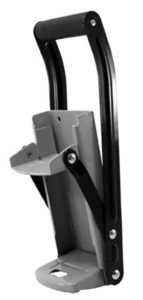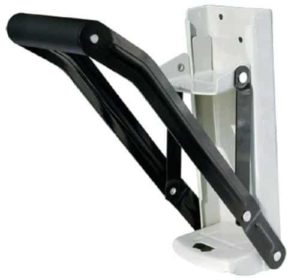 This is a model that is capable of crushing both 12 and 16 oz soda cans, it is similar to the others with a sturdy heavy duty metal frame. It mounts to any wall or board or fence. It will hold up well and allow you to crush both sizes and compact your recycling to store until taken to be recycled. Many of the other models mentioned above have options to purchase either 12 or 16 oz, but this model allows you to crush both with one crusher. Also has a convenient bottle opener on the bottom.
Foot Operated Can Crusher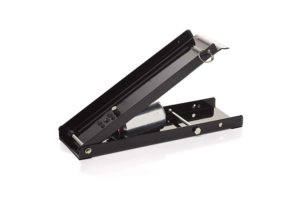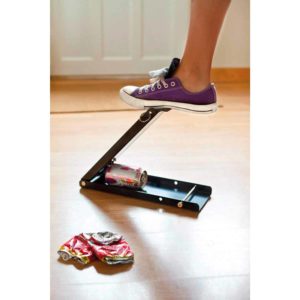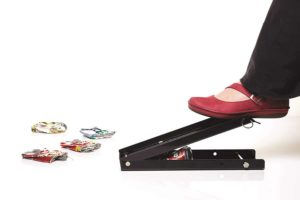 Kitchencraft Floor Foot Operated Can Crusher is an option if wall mounted is not suitable. Maybe you rent and don't want to or are unable to drill into the walls of your garage or pantry. Or if arthritis or other hand impairments make using your foot a better option, this could be the can crusher for you. These are super easy to use, no installation required, and work just as well as the other can crushers mentioned. Simply load a can and step on the lever to crush your aluminum can down to much smaller and easier stored size.
24 oz. Can Crusher
MasterCrush Aluminum Can Crusher


This 24 oz aluminum can crusher is a beast. Constructed of solid steel and stainless steel rods, as well as being powder coated for all-weather use.
Why Buy a Can Crusher?
Whether you are taking your aluminum cans in to make a little extra cash or just placing them in your curbside recycling pickup, a can crusher allows you to minimize the space taken up with your recycling. If you drink sodas or sparkling water or beer, you will most likely be purchasing them in aluminum cans. At least ten states have deposit laws, and this is a deposit you are paying every time you make a beverage purchase. This means there is money to be made if you put the effort in to save, collect, and return those cans for redemption and can cash out. While aluminum cans are lightweight, they can get quite bulky when you are storing them before making a trip to your local recycling center. A can crusher can take these cans down to 20% of their original size, making it much easier to store a larger quantity.
Aluminum can crushers can help make recycling easier and more convenient, and that's always a good thing. They are also a lot better than trying to stomp cans with your feet and making a huge mess. By simply mounting an inexpensive can crusher near your bins you can make more room to store and recycle more aluminum cans. Aluminum, just like glass, can endlessly be recycled which is another reason the effort should be made to recycle as much aluminum as possible. It is better for the environment that we utilize the aluminum already in circulation over and over as much as possible. 
Where Can I Buy an Aluminum Can Crusher?
Aluminum can crushers can be found at nearly any home improvement store such as Lowe's, Home Depot, or Ace Hardware. They can also be purchased online through Amazon of course. Most are relatively inexpensive and can make a good investment if you are already recycling regularly or are ready to start.
Tips on Getting the Most out of Your Can Crusher
An aluminum can compactor is a great ecofriendly recycling tool to have in your home. As with any tool, when used incorrectly they will not function properly or last as long as they should.
Consistent with nearly every can crusher we analyzed, there were some common mistakes to avoid when installing and using your new aluminum can crusher:
Some models come with cheaply made screws and bolts, these can easily be swapped out for sturdier choices.
Pay attention to where you mount your can crusher. If you are mounting it on a wall, make sure you locate a stud and drill and mount the crusher to a stud.
In order to avoid rusting of hinges and bolts due to rain, you may want to mount the can crusher inside a garage, or in a covered area if mounting outdoors.
One last tip is that tons of force is not usually necessary. Many times too much force is the cause for the can crushers to crack and break. The design should make the crushing fairly easy. So take it easy and make sure your purchase lasts.