Christmas lights going up signal the start of the holiday season. They make our houses, trees, and bushes glow with festive cheer; but unfortunately, products are often not as durable as we would like them to be. They don't last forever and eventually break or just stop working.
There are some easy ways to recycle your old lights or safely dispose of them if they cannot be recycled. The best thing to do is find a local recycling center near you and dispose of them there. However, if this isn't possible then it's okay to donate the lights to someone who will use them. Disposing of them improperly, tossing them in the regular trash just isn't an option.
If you have old broken Christmas lights, what should you do with them?
Fortunately, there are some easy ways you can recycle your old lights or safely dispose of them; we'll explain how below.
How do you Recycle Christmas lights?
Holiday lights are made up of valuable and recyclable materials such as copper, glass and plastic, and harmful lead.
These types of materials can be reclaimed or recycled which is why they don't belong in the trash. Normally different recyclable materials need to be separated, but don't start stripping apart your string of lights. There are a few different ways one can recycle Christmas lights including mail-in options, retail drop-off locations, and municipal waste collection sites with a Christmas lights recycling program.
If you prefer recycling in-person, local hardware stores such as Lowe's, Ace Hardware, Menards, True Value, and Home Depot collect old holiday lights. Check with your local hardware store to be sure they are a collection site. Each location may have specifics regarding what they accept, similar to recycling car batteries at a Pepboys or Autozone.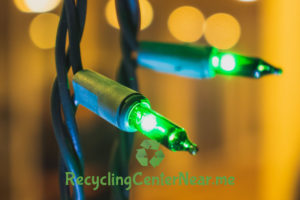 Another option for your old Christmas light sets is mailing them in for proper recycling and disposal. This choice is great if you don't have a local drop-off option nearby or recycling centers that accept them. An added benefit is that some of these companies in turn offer discounts on new energy-efficient lights to replace those you send in.
Very few recycling centers like the ones you see behind grocery stores will accept Christmas lights in their recycling bin, but they may offer a specific date for drop-offs, but you will need to check with them directly.
Yet another option for your used Christmas lights is donating them to your local goodwill store or another thrift store. The only caveat here is the lights must be working and not broken. A local thrift store will gladly accept unbroken, working lights in their donation bins, keeping them out of a landfill. Even when lights are recycled a small portion is unable to be recycled and will end up as waste, so donation is a great option.
How do I recycle broken or old Christmas tree lights?
So we now know how to recycle unwanted lights, but what about broken lights? These recycling methods all work for both broken and old lights, except in the case of donating. Donated lights must be in working order with no broken bulbs. A set of dead string lights can be recycled at a recycling center or dropped off at a collection site such as a hardware store. Any broken bulbs should be removed to avoid cuts or injuries for workers who collect them. Some municipal recycling locations may not regularly accept broken lights, but they may have specified collection dates for your local community.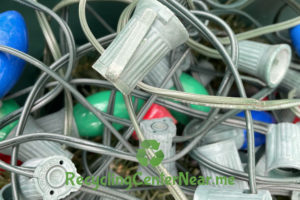 Why you should recycle your Christmas lights?
There are several reasons why you should recycle your Christmas lights, the most obvious one is that they will otherwise end up in our landfills. We should all be doing everything we can to limit what ends up in our landfills. The second reason is that there are multiple recyclable materials used in Christmas lights including metals, plastics, and glass. And the third reason, which is just as important is that many lights contain small amounts of lead, a toxin, that would otherwise be leaked into our environment if tossed in the trash.
An added bonus to recycling your old lights is that you can upgrade to new lights that are more efficient and longer-lasting like LED lights.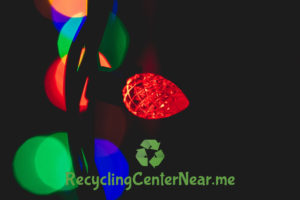 How do I reuse Christmas lights?
Most old Christmas lights get replaced because of a few bulbs that won't light. They don't need to become obsolete simply because one bulb has gone off. Even if they won't all glow they could be acceptable for a fun home project, maybe with your children. With a bit of imagination you can find a number of options for using old lightings in home projects. From lighting an outdoor space, or fort, to creating a lit canvas art piece or holiday decor with a partially lit string. There are dozens of ideas to explore online to repurpose those older lights.
Who takes old Christmas lights?
Thrift stores such as Goodwill will accept old lights if they are in working order. For any lights that are no longer working, finding a recycling company is your best bet. Check your local hardware stores or one of the mail-in options mentioned in this article.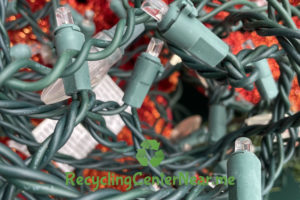 MOM's Organic Market
MOM's organic market recycling is a specialist in converting hard-to-recycle items like batteries. Those lights will be rescued by Capitol asset recycling. After processing the materials will be used for things like roofer material and other items like flatware jewelry and electronic components. Simply bring them to your nearest MOM's market and they'll be turned into roofing and construction materials such as battery packs, piping, lead wheel weights, and other electronic gadgets.
Does Goodwill accept Christmas decorations?
Yes. Goodwill will accept working Christmas lights at their donation bins along with any other Holiday decorations you no longer want or need. This is a great option to keep items out of our landfills and give them a second life bringing Christmas cheer to someone else's home or business.
What happens to the Christmas lights that are recycled?
A lights recycling service that collects lights will break down the string of lights into their different components to be recycled and made into new materials such as home construction materials or other electronics.
Does Lowes recycle old Christmas lights?
YES. Lowe's, Home Depot, Ace Hardware, and a few other chain hardware stores accept old unwanted Christmas lights through their light recycling program.
This recycling program is seasonal and you can find collection bins at their entrances. Pay attention to their signage, they may want you to remove them from any plastic bags before depositing.
Why do I need to get rid of old Christmas lights?
Technology will never last and Christmas bulbs are no exception. Many new innovative solutions are released annually for lighting: LED icicle lights, LED, energy-efficient solar, new colors and shapes, and even new forms.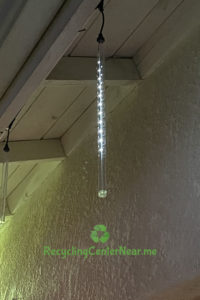 All of these should be tempting excuses for replacing your existing lights, but chances are the lights you were using stopped working while in storage all year, or there's a finicky strand that is causing too much frustration to repair.
Mail-in Recycling
For the cost of shipping, you can send your light strands to the following organizations.
EnvironmentalLED
EnvironmentalLED.com will gladly accept your old strings of lights to be recycled and in return offer you a 10% off coupon to replace them with their efficient LED lights. Simply box them up with no additional tags, papers, or boxes and send them off. Include your name and email so that your coupon can be emailed to you. They will be processed at their recycling center and broken down into their different components.
Holiday LEDs
HolidayLEDS.com is a Christmas light provider which offers all-around recycling services for many products. A new service gives the customer the opportunity to return your current lights for 15 percent of your next order. It allows you to change to new and better lighting and still recycle old janky ones. You can mail your broken light to the company any day during the year-long program. More information about the company including shipping address and light recycling form can be found on their website at holidayleds.com.
Christmas Light Source
All profits from the recycling program are directly donated to Toys for Tots thanks to Christmas Light Source. The mail-in offer grants 10% off every new lamp you order. All proceeds of the program will go to purchasing toys and books for the charity. See the site of the company for updated details about where to send your boxed up old lights and how to receive a discount on your next purchase.
With all the resources and information shared here recycling Christmas lights should be a breeze.
For information on Christmas tree recycling check out these related articles: